As a PhD student, I have been in school for longer than most. And for me, the key to being a successful student is knowing how to stay organized in school.
With each additional level of school—high school, college, grad school, doctoral programs—there becomes a new level of organization needed. With more priorities and more demands inside and outside of class, knowing how to be organized in school will be a huge asset to your academic career.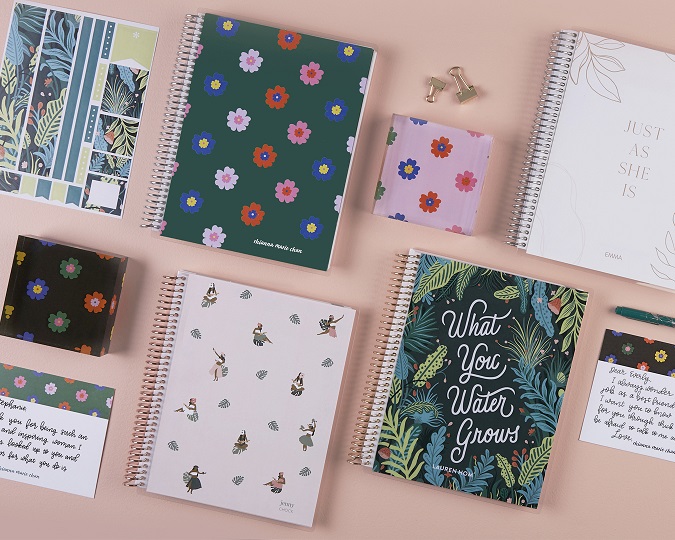 This post may contain affiliate links, which means I'll receive a commission if you purchase through my links, at no extra cost to you. Please read the full disclosure for more information. I received some products mentioned in this article as a complimentary gift, but all opinions are my own.
How to Stay Organized in School
What's the importance of being organized for students?
The demands of high school, college, grad school, and post-professional school have been growing more intense and more stressful. Especially with the added pressure to perform well, get into a good college or program, and have a successful career.
First, your well-being is impacted by how organized you are as a student and adult. By keeping your assignments organized and tracking your priorities, you can more confidently manage your time and prevent from becoming overwhelmed and burned out.
Second, knowing how to be organized in school is important because it affects your academic performance. By setting goals, scheduling study time, and remembering due dates, organized students are set up for academic success.
How do I start being organized?
Here are 7 easy and simple methods you can implement this year to stay organized in school.
Start Organizing before the Semester Starts
Develop an Organization System & Keep it Simple
Find an Academic Planner
Write due dates ASAP
Track Assignments
Prioritize and Plan Workdays
Designate a Workplace
1 – Start Organizing before the Semester Begins
While you can hop onto the organization train at any point throughout the semester, things are easier if you begin at the start of the new academic year. Or even better, prior to the first day of classes.
While you're getting back into the groove of school, it's challenging to set time aside during the first few days of classes to get organized. If you're working while going to school, finding time to get organized is even more difficult, as you're balancing a work schedule with the demands of school.
Here are 5 things you can do to be organized in school before the semester starts.
Develop a morning routine and schedule to follow when school starts. While you don't have to set anything in stone now, thinking through some of the details may ease nerves.
Write down your class schedule. Check to make sure you have all the locations written down, the professor's name, and subject.
Rope in a fellow classmate or friend to get organized with. After all, you're less likely to slack off when it comes to organization when you have an accountability partner.
2 – Develop an Organization System & Keep it Simple
My second organization tip is to create your own organization system…
System? You might be thinking, I'm an organizational novice here. An organization system sounds way too complicated.
Why can't I stay organized?
If you're currently struggling with how to stay organized in school, it's likely because what you're doing now (or have been doing) is too complicated so you quit. Or you didn't know how to start and have been flying by the seat of your pants ever since.
You don't need to go out and spend a bunch of money on stuff you don't need for organization. Nor do you need to spend hours every day working through a system to "stay organized."
How do I start being organized (again)?
An organization system is a routine list of tasks and steps you do regularly to be neat and organized in school. Developing a simple organization system helps build organization and order into your daily routine so you don't get stressed and overwhelmed later.
When building an organization system or finalizing your routine, you need to have these 5 parts:
A way to keep track of assignments
A way to schedule appointments and meetings
A way to manage your time
A place to remember due dates
A way to organize tasks and set priorities
With these 5 parts, you have the building blocks for being an organized student. You just need to do these tasks consistently.
But as I mentioned above, the solution is not to go spend all your money at an office store to create an organization system fit for a queen. Surprisingly, even with work, classes, and blogging, I only have a few key office supplies I use to be organized as a student. See my top recommendation below.
3 – Find an Academic Planner
When it comes to how to be organized as a student, I couldn't do it without my academic planner. My academic planner is like my compass for my year.
Having a physical paper planner helps me remember assignments and due dates because I have to write them down. Writing anything down reinforces the memory.
Now, I'm using the ErinCondren Academic Planner to stay organized. The weekly spread has a to-do list as well as a separate area to write assignments and another for classes / appointments / events.
In my previous planner, I struggled with this because I both wanted to write a running to-do-list, my obligations for the day (classes, events) and my assignment due dates.
My Planner has room for all of these things in a neat, separate space for each weekday and consolidated for the weekend. Additionally, my academic planner has space for me to write down my schedule for each semester in the front. Seeing as I walked to the wrong class on the first day last year, I'm going to make sure to fill out the schedule for this year.
4 – Write due dates ASAP
Another top tip for how to stay organized as a student is to write due dates in your academic planner or assignment tracker as soon as they are given.
Some professors will give you all your assignment and exam due dates on the first day of class or before the semester begins. If that's the case, go ahead and note down the your due dates so they don't sneak up on you later.
If your professor gives due dates on the fly, carry your planner with you to class. Then you can note the due dates in class instead of struggling to remember them later.
One of the benefits of the ErinCondren Academic Planner is that it has a monthly view and a weekly view layout. For big due dates, I recommend tracking them in the monthly and weekly view.
For example, I use the monthly view to see where I might need to keep my social calendar or my work schedule light while gearing up for big exams or projects.
5 – Track Assignments and Progress Regularly
Tracking assignments and your progress is increasingly important when you get to higher levels of education. No longer are your assignments short enough to finish in one sitting. So, tracking your progress against the due dates and managing your time with an academic planner will help you keep up with the course.
One surprising feature in this colorful, spiral academic planner are the goals, projects, and exams pages for every month. These pages give you space to make a more detailed plan for your goals and big assignments every month.
On top of that, you can addd a snap-in, laminated insert for projects and exams. This removable insert gives you the flexibility to track projects that are longer than a month. So if you're working on a semester long project, you can move the insert from month the month and update your progress with a dry erase marker.
6 – Prioritize and Plan Workdays
Personally, I supplement my academic planner with a couple of things to make prioritizing and organizing easier (and more fun).
First, I use the a weekly trackpad to get a succinct, weeklong view of what I need to do this week. I love this pad because I feel like I can plan out blocks of time to work on homework, study for exams, or meet up with friends. It's easy to write reminders to myself and change things on the fly.
While creating an hour by hour schedule is another option, I find this is not realistic. And I always get frustrated when my schedule is wrecked by something unexpected (and it always is).
Instead, a weekly track pad gives you enough structure to plan your time with the flexibility to adapt as needed.
Secondly, I use a color-coding system with markers to keep track of different types of tasks. For example, I'll write work related activities in blue and classes in orange. My assignments are in green and due dates are in red. Any social or family events are in purple or pink.
Having a more colorful planner motivates me to use it more. And I'm always eager to write things down in my planner because I can use these beautiful dual-tip markers.
7 – Designate a Workspace
For my last tip on how to stay organized as a student, I recommend finding a designated workspace. Cluttered work areas often stress students out before they begin working. And while lying on the couch may be comfortable, it's also likely to lull you to sleep.
If there are any tools you use when studying, like headphones to block out noise, highlighters to review notes, or subject notebooks to write on while listening to lectures, be sure to have them handy. For more school organization ideas for students, check on this post on office supplies and organization ideas.
How to Be an Organized Student
Organization is one of those things that is done little by little, not overnight. It requires a bit of time and attention each day to stay organized. Forgo many days, and suddenly, you feel overwhelmed.
If that's you today, that's okay. It's never too late to catch up on organization. Today can be the day you learn how to be an organized student. This academic year can be the year you finally stay organized.
With these tips on how to be organized in school, you can put your organization anxieties at rest. Now that you have a way to track assignments and manage your time, the only thing left to do is focus on school. Happy studying!
What's your top organization tip for students?
Leave me a comment below!
Don't Miss More Posts about Work & School:
Sign up for the best adulting tips and adventures!
Subscribe to our site for access to adulting resources, regular post updates, fun freebies, and printables!