When I write stories, I usually fly by the seat of my pants, eagerly waiting for whatever pops up on the page next. But when I plan—for school, work, blogging, or life in general—then I become an A-class planner.
Using the best planners for work and home, I tackle life armed with organization, task tracking, scheduling, and flexibility. Because life never goes as planned. 
And however crazy or laid back your life is, you can find an academic planner for 2023-2024 to help you reach your productivity, work, home, budgeting, and writing goals!
This post may contain affiliate links, which means I'll receive a commission if you purchase through my links, at no extra cost to you. Please read the full disclosure for more information. I received some products mentioned in this article as a complimentary gift, but all opinions are my own.
Types of Planners
Whether you are a grad student like me or a young professional as I once was, there are many different types of planners to meet your organization and productivity goals. While planners vary in their use and design, there are some features that almost all planners include.
What do the best planners include?
Overall, the best types of planners have these features:
A calendar – Whether in a monthly, weekly, or daily format, the calendar helps you schedule appointments and track important dates.
A task list – A favorite feature of mine, task lists allow you to jot a quick to-do list for the month, week, or day.
Notes pages – These pages allow for miscellaneous note-taking in meetings, journaling before goal setting, or drawing to destress after a hectic meeting.
Goal Setting pages – Another great feature in many of the best planners is a goal setting page(s). These pages give you a framework to help you create your goals, figure out how to achieve them, and track them throughout the year.
Design – Many of the best planners stand out because of their design. Whether it's the inspiring quotes on each weekly page or the standout cover on the front, planners can be statement pieces, too.
What are the different types of planners?
Day Planners – the biggest feature for these planners is a detailed layout page for each day. If your days need detailed scheduling, then a day planner may be right for you.
Weekly and Monthly Planners – probably your most standard planner, a weekly or monthly planner contains layouts for you to record important dates and get a monthly view of your commitments.
Goal and Vision Planners – do you have a vision board in your room? Do you make quarterly goals even when work doesn't require them? Then goal and vision planners are right up your alley. Their focus is helping you define, track, and achieve your goals and create a vision for the year.
Project Tracker Planners – the selling feature for these types of planners is the ability to schedule tasks and track their completion on a detailed level. If you deal with projects or exams on the regular, these planners will help you prep in advance.
Budgeting Planners – keeping track of expenses and how your money is spent, invested, and saved is a must-have for adulting. Budgeting planners help you track spending and make your financial goals.
With that being said, here are 15 amazing planners for work and home or work and school. However you intend to use your planner, look below to find the right match for you.
Best Planners for Home, Work, and School
For help with creating goals, building a vision, and tracking personal goals to completion, check out these best planners for work and home.
Even if you've left your academic days behind, chances are you still need a way to stay organized in the office. I've noted the types of planners for work and home that look professional and offer all the goal planning and project tracking that a young professional needs.
A5 Platinum Spiral Coiled Life Planner (July 2023 – December 2024) from Erin Condren – Weekly Layout
This 18-month spiral planner starts in July 2023 and helps you plan until December 2024. Erin Condren planners have amazing versatility when it comes to finding an organization system that works for you.
Erin Condren planners are durable, colorful, and come in many different layout options so you can choose the one that works best for your schedule and planning needs. 
The Coiled Life Planner in particular comes in a weekly horizontal spread, weekly vertical spread, daily layout, or hourly weekly layout. Some other bonuses include inspirational quotes throughout, pages for monthly planning, goal setting pages, and monthly view pages.
"Be Kind" 2023-2024 Day Planner from Bloom Daily Planners
Bloom Planners also has weekly and monthly planners that cover the academic year (July 2023 – July 2024). So, if you're looking for a planner that gives you more on top of the weekly and monthly views, consider this one.
The "Be Kind" Day Planner helps with goal setting and organization by giving you dedicated pages for setting your goals, creating a vision board, and other life coaching feature pages. For example, there are pages dedicated to budgeting and bill tracking, writing down gratitude lists, and brainstorm an ideal schedule.
Additionally, Bloom has recently added weekly priorities and healthy habits tracking to every weekly page. The tabs are a nice bonus, too!
2023-2024 Mini Weekly Planner from Day Designer
For young professionals and college students needing to take their planner on the go, this mini planner is the type of planner you need.
The weekly format spans across two pages and has space for a checklist or to do list and space to record appointments and important events. As a bonus, there is space for weekly priorities and notes.
The planner also has month and week planning pages, goal-setting worksheets, important dates, gift ideas, and many more bonus pages.
I love the beautiful cover designs and the sleek inner design packed into this mini planner. But if you need a bit more room, the DayDesigner Deluxe Flagship Planner is available in a bigger size, too.
Softbound Focused Weekly Planner from ErinCondren
ErinCondren has produced this new Focused collection with planners with sleek designs and a minimalistic look. That makes them the perfect planners for work and school as their neutral colors and simple design are extremely professional.
But the minimal look doesn't mean features are left out. In fact, this planner has monthly and weekly layouts, space for setting goals and intentions, a contacts and holiday page, and more. Not to mention, it has the same layout as the more colorful Academic Planners above.
This academic planner was created for students to help them manage stress, organize tasks and assignments, and make plans for a successful year.
If you're a teacher, try the Teacher Lesson Planner, which is designed especially for teachers needing to make plans for their classes, keep track of schedules, attendance, important dates and more.
A5 Daily LifePlanner Ring Agenda (July 2023 – June 2024) – Mid Century Circles Agenda
Next from Erin Condren is another life planner, but in the style of a 3 ring binder. The daily pages have space for you to plan your activities by the hour and create to-do lists. Reach your goals with the goal tracking pages and have an overview of your month with the monthly layouts.
While this is a more expensive option (see discount code below), it has a lot packed into those 3 rings. The full layout for every day allows you to do detailed planning, create a more balanced schedule, and prioritize for a busy day.
With this planner for work and home, my favorite feature is the storage pockets inside, where you can stash a pen, cards, paper, and sticky notes. And the 3-ring binder allows you to move pages around, add more pages later, and comes in this beautifully designed vegan leather cover.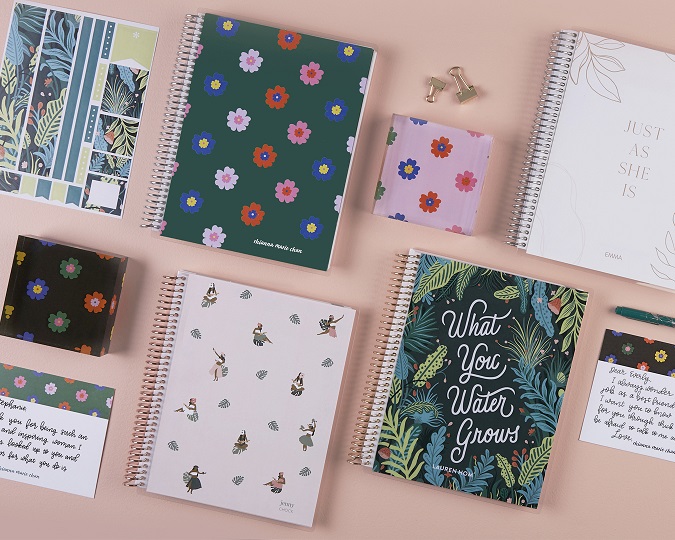 While Erin Condren planners can be pricey, you can often find a good deal on their site. See what Erin Condren Deals are happening at their site: https://www.erincondren.com/ — like free shipping on orders $80+!
Bloom Daily Planners 2023-2024 Hardcover Academic Year Goal & Vision Planner
As the name suggests, this planner is designed to help you create visions and plan your goals. It has pages dedicated to personal goals, self-care, monthly tasks, planning, gratitude, bills, finances, and more.
The spacious monthly views have a monthly challenge for you to complete. Every month there is space for you to imagine, dream, and shape your visions into goals.
Take advantage of the life coach pages and monthly vision boards to make your dreams come true!
The Ultimate 2023-2024 Life Planner from ErinCondren
This is the ultimate planner from ErinCondren! A straightforward planner design with tabbed calendars and space for yearly, monthly, and weekly planning.
Also has monthly quotes, productivity pages, extra notes pages, and space for your contacts. Lots of unique designs to choose from, so check out the full range of beautiful designs and features. You can also customize your Life Planner at Erin Condren's website with a coil color, layout design, personalized cover, and design themes.
Erin Condren Academic Planner, Spiral Bound (July 2023 – June 2024) – Boho Leaves Cover
Now you may be asking which planner I use? Well, the Erin Condren Academic Planner offers the best value for me in terms of functionality, versatility, budget, organization, and design. It's the most important tool for me when it comes to staying organized in school.
As a young professional and a student, I benefit from using the academic year calendar and all of the organization and scheduling potential within the planner. My Erin Condren Academic Planner is a one-stop shop for what I'm involved in inside and outside of school and work.
The weekly spread has a to-do list, a separate area to write assignments, and another space for classes / appointments / events. It has space for me to record my schedule for each semester the front and a exams and projects tracker for each month.
You can see inside the planner below and find more pics on our KJL Instagram page.
He Gives Me Grace & Glory- Undated 12 Month Weekly Monthly Planner from DaySpring & Katy Girl
Are you looking for a planner that's inspired by the Christian faith, too? Then you may enjoy using an agenda from DaySpring.
This KatyGirl & Dayspring planner has weekly and monthly views for your planning needs. It also includes a list of important dates, a plan for reading the Bible in a year, and several pages for notes, prayers, and praise reports.
The hardback and inspiring design makes this planner a standout and encouraging all year long. Since it's an undated planner, you can start planning and organizing any time and adjust as needed.
Goal, Business & Productivity Planner | Undated Daily 2023 – Productivity Store
The flagship planner from Productivity Store, this planner has one focus—productivity—and it overdelivers. The weekly spread has space for weekly priorities, daily habit trackers, weekly goals, and inspirational quotes.
Then for the daily area, you can get into the weeds of planning your day. Create to-do lists, celebrate daily accomplishments, reflect on ways to grow, and write a gratitude item.
If productivity is your goal, then this may be the planner for you. It is also undated so you can begin planning anytime.
But if you find yourself getting overwhelmed with all the different prompts, a more minamalist planner may work better for you.
Related: 8 Ways to be More Productive at Work
2023-24 Daily Planner: Casa Bella from Day Designer
If you're looking for something to help you stay organized every day, then the Day Designer Flagship Daily Planner may work for you. These planners for work and home are here to help you plan and schedule with more detail day to day.
I love all the features on the Daily Planning Page of the Day Designer Flagship Daily Planner. Set your top 2 Priorities and then work out a daily schedule and to do list. The Daily Prompts help keep you on track and the quote adds inspiration and motivation to your day.
Step Out in Faith – 12 Month Undated Planner from DaySpring:
Why not be inspired by Scripture while you're planning and getting organized? This monthly planner is undated, which allows you to start at any time, and has pockets to store loose papers and notes.
This DaySpring paperback planner for work and home is easy to use and navigate and at a price point you will love.
Petite Planners + Foilo System from Erin Condren
These planners may be small, but they are packed with everything you need and more to manager work and home on-the-go. Includes fitness tracking, finance and budgeting, goal planning, meal planning, and daily and monthly planning pages.
Because of how much is packed into each planner and the ability to record and plan activities daily, each planner will cover 3 months (about 90 days).
Try it out for a while, and if you like it, you can buy more for the rest of the year since they're so inexpensive. Or you can choose a PetitePlanner bundle and get planners to cover the 2023 year.
Also check out the Monthly PetitePlanner for 18 months from Erin Condren. (Monthly spread instead of daily view.)
Budget Book Budget Planners from ErinCondren
These planners for budgeting have pages designed to help you manage your finances and meet your financial goals. It has monthly views, quarterly finance check ins, and budget trackers.
What are your top recommendations for planners?
If you're overwhelmed by all of these different types of planners, I'm happy to narrow down the list. I've used Bloom Daily Planners during my academic years and previously used a Day Designer planner for keeping track of school, work, and my blog.
Now, I'm using the ErinCondren Academic Planner. All the bonuses – inspiring quotes, extra space for to do lists, lots of planning space but a compact planner—make the ErinCondren Academic Planner a good fit for me.
Top Planner Picks for Work and Home:
As you continue to explore these different types of planners for work and home, I hope you find the best organization method for you. We could all use a bit of organization while navigating the adulting struggle.
What type of planners for home or work is best for you?
Leave me a comment below!
Related Posts to help you Plan and Organize:
Sign up for the best adulting tips and adventures!
Subscribe to our site for access to adulting resources, regular post updates, fun freebies, and printables!