2023 looks like it will be just as busy as 2022. Time to grab your best planners for work and home to get organized, foster productivity, and keep track of business.
With everything each of us have going on, it's easy to lose our way, forget something, and then forget something else as we circle back around to the first thing! For women with busy lives, having a planner for organization can bring a bit of structure (and if we're being honest, sanity) to our world of busyness.
Check out these top recommendations for types of planners for productivity, goal setting, work, home, budgeting, writing, and more. Time to do some planning!
This post may contain affiliate links, which means I'll receive a commission if you purchase through my links, at no extra cost to you. Please read the full disclosure for more information.
Importance of Planners for Organization and Productivity
It's probably no surprise to most of us that having a plan helps us get things done. I add another thesis to this statement, that a plan turns a goal into action.
This year I spent a lot of time on thinking about how my yearly goals could become more bite-sized. In other words, what could I do today, this week, and this month to accomplish that goal? Otherwise, I find that it's June and I haven't accomplished anything.
What I love about my planner for work and home is that I can plan out these smaller goals and track them in my planner. Now I know what I should be working on each month to accomplish my goals. Plus, it's easier to adjust my plans as I go.
Too often we overcommit ourselves and our time because we don't have a solid plan or defined goals. A calendar year or academic planner with goal planning worksheets, journaling pages, and devotions can make all the difference.
Do planners really help?
Yes! Planners are valuable tools you can use to get (and stay) organized, keep tracks of tasks and goals, and increase your overall productivity. Planners for work and home provide a central location for appointments, due dates, projects, events and more.
No matter what type of planner you use, as long as you're using it, it's bound to help you control the craziness and save you time.
With that, we can dive into this list of best planners for work and home to enable you to better manage work life, personal life, home life, goal setting, productivity, and whatever else you got going on. Here's the best planners for work and home list updated for the 2023 calendar year!
Best Planner for Home and Work
Whether you are a grad student or college student like me or a young professional, there are tons of different types of planners to meet your organization and productivity goals.
A5 Daily LifePlanner Ring Agenda from ErinCondren: With this planner for work and home, my favorite feature is the storage pockets inside, where you can stash a pen, cards, paper, and sticky notes. The daily pages have space for you to plan your actives by the hour and create to-do lists. Reach your goals with the goal tracking pages and have an overview of your month with the monthly layouts
Get $10 off your first purchase of $40 or more from the ErinCondren website with the code: RAKUTEN10.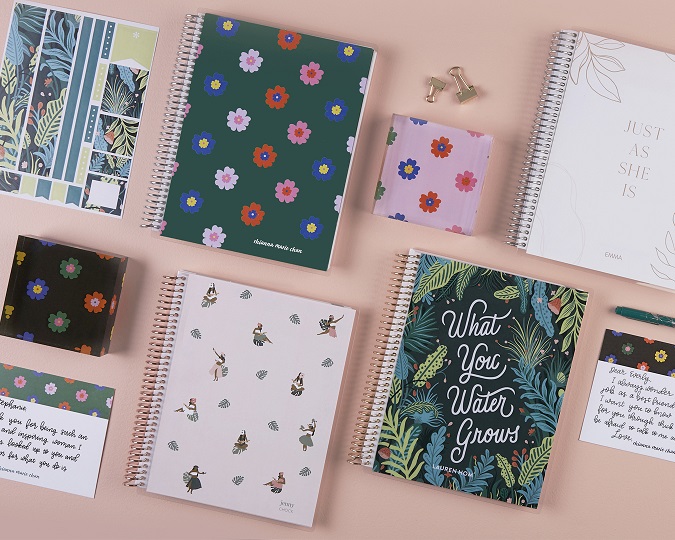 Bloom Daily Planners – Weekly and Monthly Planner and Organizer with Tabs: If you're looking for a planner that gives you a lot more on top of the weekly and monthly planner pages, consider this one. This planner helps with goal setting and organization by giving you dedicated pages for setting your goals, creating a vision board, and other life coaching feature pages. The tabs are a nice bonus, too!
Best Planner for Work and Personal Goals
Before you can have a solid plan, you must have solid goals. For help with creating goals, building a vision, and tracking those personal goals to completion, check out these best planners for work and home.
Vision Planner & Calendar from Bloom, Hardcover, Month and Weekly Views: As the name suggests, this planner is meant to help you turn your visions and dreams into real accomplishments. It has pages dedicated to personal goals, self-care, monthly tasks, planning, gratitude, bills, finances, and more. Take advantage of the life coach pages and monthly vision boards to make your dreams come true!
The Ultimate LifePlanner from ErinCondren: This is the ultimate planner from ErinCondren! A straightforward planner design with tabbed calendars and space for yearly, monthly, and weekly planning. Also has monthly quotes, productivity pages, extra notes pages, and space for your contacts. Lots of unique designs to choose from and the ability to customize down to the pages included in your planner! Make sure to check out the full range of beautiful designs.
Step Out in Faith – 12 Month Undated Planner from DaySpring: Why not be inspired by Scripture while you're planning and getting organized? This monthly planner is undated, which allows you to start at any time, and has pockets to store loose papers and notes. This paperback planner for work and home is easy to use and navigate and at a price point you will love.
Moleskine Classic 12 Month 2023 Weekly, Hardcover Planner: This yearly planner is built for students in mind, but it has a lot of unique features for young professionals with lots of projects and anyone looking to stay organized. The two-page monthly and weekly layouts makes it easy to schedule appointments and track tasks for long-term projects. As a bonus, this planner comes with pages for to do lists and bullet journaling.
Best Planner for Young Professionals
Even if you've left your academic days behind, chances are you still need a way to stay organized. Check out these best planners for work and home that look professional and offer all the goal planning and project tracking that a young professional needs.
Softbound Focused Weekly Planner from ErinCondren: ErinCondren has produced this new Focused collection with planners with sleek designs and a minimalistic look. That makes them the perfect planners for work as their neutral colors and simple design look extremely professional. But the minimal look doesn't mean features are left out. In fact, this planner has monthly and weekly layouts, space for setting goals and intentions, a contacts and holiday page, and more.
If you're a teacher, try the Teacher Lesson Planner from Erin Condren, which is designed especially for teachers needing to make plans for their classes, keep track of schedules, attendance, important dates and more.
When you get overwhelmed, pop over to one of the quick devotionals on God's promises or free-write in the Notes section and reflection area for each month. The weekly spreads have checkboxes built into each line so you can check off your tasks and to-do list with ease. Lastly, the premium designs and covers on this planner for work and home will make you want to carry it everywhere!
2022-2023 Mini Weekly Planner from Day Designer: For young professionals and college students needing to take their planner on the go, this mini planner is the type of planner you need. The weekly format spans across two pages and has space for a checklist or to do list and space to record appointments and important events. As a bonus, there are daily planning pages for days when you need a little more organization.
Weekly Planning Pad from Bloom Daily Planners: If you're not looking for a bound planner book, a planning pad is a great option, too. This weekly planning pad gives you a lot of the same features of a planner but on a pad where you can tear off the pages as you use them. You can set your weekly priorities, write a to do list, track habits, and still use the spacious weekly views.
Budget Book Budget Planners from ErinCondren: These new planners for budgeting have pages designed to help you manage your finances and meet your financial goals. It has monthly views, quarterly finance check ins, and budget trackers.
Best Types of Day Planners
These planners for work and home are here to help you plan and schedule with more detail day to day. These day planners from ErinCondren, Day Designer, and Bloom give you the space to organize even more.
Today and To Do Non-Dated Planner from Day Designer: Sometimes you don't need all the bells and whistles to get organized. This work and home planner is for those moments where you feel overwhelmed and you just need to write out tasks and activities. If you have a special project, the layouts are specifically helpful for tracking milestones and progress. With monthly, weekly, and daily pages, you'll have all the organization you need when you need it most.
You can't be productive without getting organized first! If you're looking for something to help you stay organized every day, then the Day Designer Flagship Daily Planner may work for you. It has beautiful cover designs and combines clean layouts and effective prompts to help you plan and schedule.
Metallic New Year Academic Planner from ErinCondren: Bring in the new year 2023 with a metallic academic planner to keep track of school, work, and more. This academic planner was created for students to help them manage stress, organize tasks and assignments, and make plans for a successful year. Check out the weekly, monthly, and yearly planner pages, helpful for anyone needing to make plans and keep them.
Bloom Daily Planners 12 Month 2023 Day Planner: This planner and calendar features monthly views with space for notes and weekly spreads with space to list out weekly priorities. It includes inspirational quotes for each month and monthly challenges and reflections. It's a straightforward planner with beautiful designs. (Stickers and bookmark as a bonus!)
Petite Planners from Erin Condren: These planners may be small, but they are packed with everything you need and more to manager work and home on-the-go. Includes fitness tracking, finance and budgeting, goal planning, meal planning, and daily and monthly planning pages. Because of how much is packed into each planner and the ability to record and plan activities daily, each planner will cover 3 months (about 90 days).
Related: 8 Ways to be More Productive at Work
Best Planner for Writers
My Brilliant Writing Planner: This planner is designed with the author and entrepreneur in mind. It was recommended to me from my writer's association, and I definitely understand why. It's decked out with tons of features specific to writing novels, including pages for personal visions, goal creation, brainstorming and project boards, task lists, daily logs, and inspiration to keep you motivated to write that book!
The tailored pages and features make this one of the best planners for writers because it's easy to track your writing goals and set a writing focus.
The Momentum Planner: While not designed for writing in particular, this also comes recommended from my writer's association. It is a beautiful, faux-leather planner that is perfect for productivity and setting your writing goals for any length of time, as it has yearly, quarterly, monthly, weekly, and daily planning pages. Besides how stunning the planner is, the structured pages help you finish your projects, track your progress, and stay on target. You'll get that novel/memoir/book/story written soon enough!
Daily Undated Passion Planner: This daily planner has very detailed daily pages to help you get the most of your day and your writing. The pages allow you to set an intention for the day, organize your activities into personal and work spaces, track activities and appointments by the hours, and gives you empty space for doodling. As an added bonus, there are pages to help you set and track your overarching goals for the month, too.
Related: The Best Professional Career Advice I Ever Got from a Writer's Conference
Choosing the Best Type of Planners for You
Picking out the right type of planner can be a daunting task. There are lots of options, and you want to get something you will definitely use. With so many great planners for work and home, how does a young professional choose?
How do I choose a planner?
When choosing a planner, make sure to do your research and look closely at the product photos and descriptions. As you look over those things, there are a couple of things that you want to be sure to consider.
Type of Planner = Main goal. When sorting through all of the types of planners, the most important thing is to match the type of plannerwith the main reason why you're investing in a planner.
Basic Layout & Pages: When researching a planner for work and home, check out what pages they include as standard. Are these pages that you will use often, frequently, rarely, or never? Do you like the basic layout?

Some different layout pages include, weekly spreads, daily layouts, monthly views, budget planning pages, goal / vision planning, reflection pages, gratitude prompts, journal and notes pages.
Presentation of Dates: Most types of planners include some calendar pages or pages with dates. These pages are helpful for tracking goals, remembering deadlines, planning activities and vacations, scheduling events or meetings, and keeping track of homework assignments.

Dated or Undated: Some types of planners come undated while others are dated to match typical "years." School year or academic planners typically run August to July, while calendar year planners will be January to December.
If you buy a school year planner towards the end of the year, you can usually get a discount since you'll only use half of it the following year.
Size: Size refers to the physical size (pocket planner, full page width, desk planner). When thinking about size, ask yourself where you plan to use the planner and if you plan to take it on the go.
Colors and Design: I love planners that stand out and are a unique expression of who I am. On the other hand, if you're using this planner for work or taking it somewhere where you'll be seeing clients, you may want to stick to standard or muted colors.
Customization: Depending on how artsy you are (or not), consider the planner's level of customization when choosing between different types of planners. Some planners for work and home give you the liberty to personalize the planner, design the pages to fit your lifestyle, and add in additional planner features. Others are straightforward and don't need customization to function.
Why are paper planners better?
Having tried the digital route, I believe the best types of planners for work and home are paper planners! There is power in writing things down and seeing them in a visual format.
Our brain is more likely to remember things when we write them down.
Physically checking off tasks and tracking goals is more satisfying in a paper planner. That motivates us to be more productive!
Paper planners allow you to go off script. You can write in the margins, customize with colors and stickers, add your own sections, replace sections, etc.
Lastly, we spend so many hours on our computers and devices between work, streaming services, and chatting with friends. It gets draining staring at the screen all of the time. That's why I recommend that your woman's daily planner be a paper planner, the best type.
A paper planner is a canvas with a bit of structure and tons of space for creativity. Any of these best planners for work and home can be adapted to fit your busy life.
Which is better bullet journal or planner?
It depends! Do you want the structure already built in (planner) or do you want to have the freedom to put in the structure exactly how you want it (bullet journal)?
If you want to be a better organizer or increase productivity, I'd recommend a planner. Multi-faceted planners for work and home provide more structure, which makes it easier to stay organized and track tasks and deadlines. It helps overall productivity because you know what you're supposed to be working on next.
On the other hand, if you want to find something to keep track of lists, jot down your thoughts and ideas, or sketch/draw/write, I'd recommend a bullet journal. The beauty of bullet journals is that they have the freedom to be whatever you want.
What are your top recommendations for planners?
If you're overwhelmed by all of these different types of planners, I'm happy to narrow down the list.
I've used Bloom Planners during my academic years and now use a Day Designer planner for keeping track of school, work, and my blog. ErinCondren planners are known for their quality, versatility, and range of feature pages.
Top Planner Picks for Work and Home:
Organizing and Using Different Types of Planners
There are many different types of planners for work and home to choose from. But after you decide, how do you organize and use a planner?
Home Life: Use your planner to meal plan, track finances, plan vacations, and remember important dates for you and your family.
School: Use your planner to track your assignments. At the beginning of the semester, write down the due dates of all of your assignments and your tests.
Work: Use your planner for work to track individual appointments with clients, mark dates for training, plan your vacation, be conscious of when coworkers will be out of the office, remember project milestones (and plan the celebrations of those milestones).
How do I organize my daily planner?
I use a pen color scheme to organize my daily planner. For example, I may assign finances and bills the color green, work deadlines the color blue, plans with friends and family purple, and vacation orange.
Another way to organize your planner is by using the dated pages. I always organize my monthly items at the start of each month so I have a big picture view of the month.
Then, you can further organize your activities and tasks with the week or daily planner pages. These will give you a more detailed picture of the puzzle. This is perfect for scheduling time to write, exercise, relax, go grocery shopping, or meet up with friends.
Some of the planner's pages you will probably use while others you won't as much. That's okay! Above all, you should organize your daily planner to fit your lifestyle and your needs. As you continue to use these different types of planners for work and home, you will find the best organization method for you.
What is the best type of planner for home or work that you've used?
Leave me a comment below!
Don't miss this! More posts about Working and the Young Professional Lifestyle: